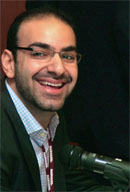 Habib Haddad
Habib is behind the original idea behind Yamli, and today drives Yamli's vision of empowering the Arabic language and users on the web. His responsibilities span from product strategy and design to business development. The World Economic Forum recently recognized Habib as a Young Global Leader for 2009.
Prior to Yamli, he worked as a senior engineer at ATI (later acquired by AMD); and before that he was part of the early engineering team at Mok3 (now Everyscape), a startup out of the MIT CSAIL lab.
Habib co-founded INLET (International Network of Lebanese Entrepreneurs and Technologists), an organization geared towards promoting entrepreneurship and leadership for the Arab world in general and Lebanon in particular. He also founded Relief Lebanon, a grass roots effort aimed at supporting the relief operations in Lebanon during the July 2006 war. Relief Lebanon was featured by the "101 Stories to Tell" initiative by the UNDP in February 2009.
Habib often speaks about early stage development and entrepreneurship, and has spoken at venues such as the Harvard Business School, Boston College and the American University of Beirut. He currently sits on the advisory board of Meedan, a non-profit startup that aims to enable cross-cultural dialogs online.
Habib holds a Bachelor of Computer and Communication Engineering from the American University in Beirut and a Masters in Electrical Engineering from the University of Southern California.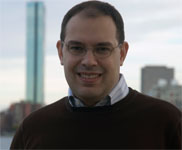 Imad Jureidini
Imad is responsible for software architecture and development at Yamli. Imad has over 10 years of experience in software development, ranging from 3D graphics and geographic information systems to web development.
Prior to Yamli, Imad worked at several companies, from startup to Fortune 500. He was a senior software engineer at Mok3 (now Everyscape.com), where he met Habib Haddad. He was also a software engineer at PTC, and worked on two of his own startups: Mapnetic Technologies, developing online mapping software, and Tripogo.com, a travel website.
Imad hold a PhD in Nuclear Engineering from MIT and a Bachelor of Science in Applied Physics from Columbia University.